EXCURSION DESTINATIONS
in the Berchtesgadener Land
KEHLSTEINHAUS
A historical viewpoint and contemporary historical document at 1,834 m above the Berchtesgadener Land. Via the breathtaking Eagle's Nest road and the magnificent Eagle's Nest elevator, guests can reach the interior of the Eagle's Nest directly. Enjoy the overwhelming panorama during a short hike or while enjoying Bavarian cuisine in the mountain restaurant.
SALT MINE BERCHTESGADEN
Experience a mysterious journey into the depths of the mountains! A journey to sparkling places of longing and fascinating sensory experiences. A journey into the salt mine Berchtesgaden. A place where salt is still extracted today. Embark on an adventurous family trip underground with a mine train, slide and trip over the mirror lake.
THE OLD SALT WORKS
Salt is an indispensable element of life. A preciousness that the earth releases only in a few places. Bad Reichenhall is such a privileged place. For centuries, the valuable white gold has been mined here, which at that time stood for power and wealth far more than today. The Old Salt Works are considered a magnificent symbol of this wealth. After the devastating city fire in 1834, King Ludwig I had the saltworks rebuilt and modernized in a contemporary style. The main fountain house with the Brunnhaus chapel is the central point.
JENNER AT LAKE KINGS
Royal mountain experience! In summer and winter, the cable car brings sun worshippers, hikers, paragliders, climbers, skiers and snowboarders to the Jenner (1,874 m), the highest entrance gate to the Berchtesgaden National Park. But Bertesgaden's local mountain also entices with royal views and culinary delights - let us surprise you!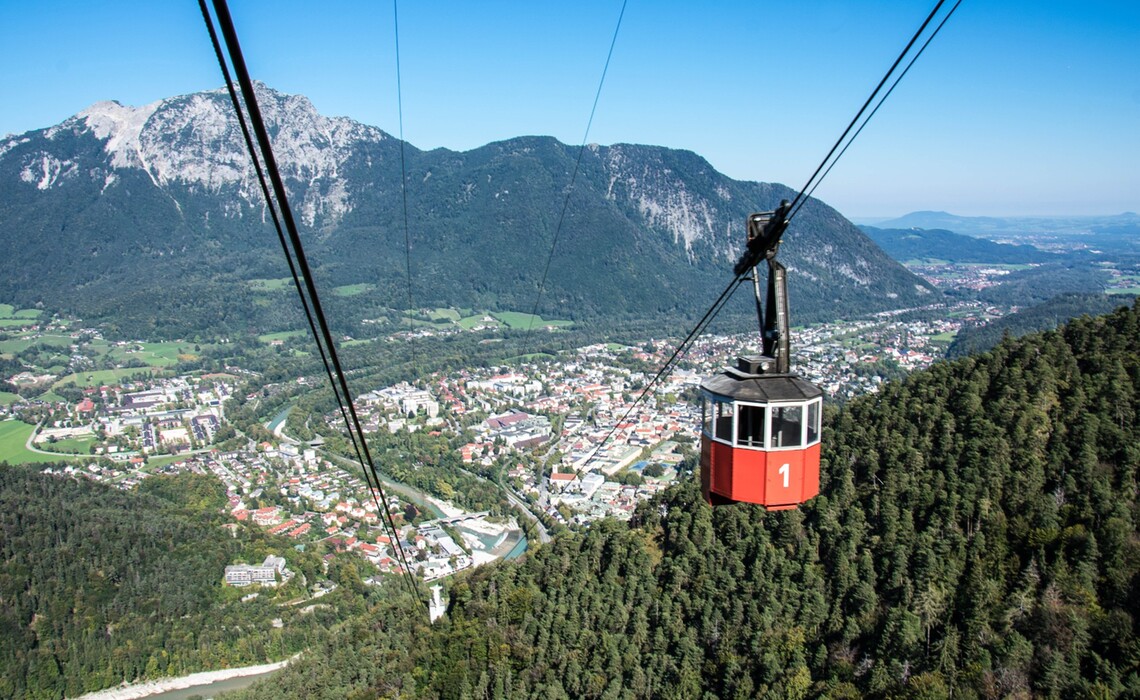 SERMON CHAIR BAD REICHENHALL
Make your trip an unforgettable experience and float in nostalgic flair on the 1614m high Predigtstuhl. The Predigtstuhl cable car is the oldest large-cabin cable car in the world that has been preserved in its original state and operates all year round. It is also considered to be the perfect cable car and is the only mountain railroad to be listed as a historical monument.
The newly opened mountain restaurant with the legendary fireplace room and a breathtaking view from the coffee terrace is located directly at the top station. It now welcomes its guests in new splendor and in the charm of a bygone era.
The Schlegelmulde alpine hut is about 15 minutes' walk from the top station. This jewel of Bavarian comfort can be reached on well-tended walking and hiking trails.
The Predigtstuhl is an excellent destination for excursions at any time of the year. Enjoy the snowy landscape, the awakening of nature in spring, the warm mountain sun or the magnificent play of colors of the diverse mountain flora in autumn.