EASTER MARKET OF THE LOCAL FARMERS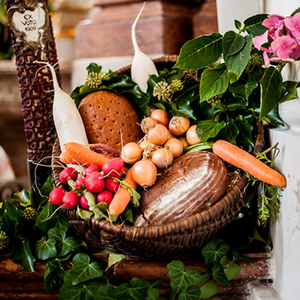 Palm bush binding is the focus of the traditional Easter market at the Salzburg Open Air Museum on Saturday, March 24 (10:00-17:00).

The traditional Easter market in Großgmain has become one of the finest markets of its kind in recent years. Salzburg farmers' wives bring a wide and high-quality range of products from their own production, including Easter ham, Easter eggs, bacon, Easter butter, various types of bread, fasting pretzels, fresh Pofesen, juices, herbs and much more. Bakers, distillers and beekeepers are also on site. Hungry people can look forward to Pofesen, Lungauer sausages, bacon breads and other snacks for in between.

A special attraction of the Easter market is the palm-bush tying, organized by the local history association "D'Lattenberger". Craftsmen demonstrate the production of handicraft items around Easter, such as painting and decorating Easter eggs and wax candles, carving holy ghost pigeons or fabric hand printing. Children can decorate Easter eggs on the spot.